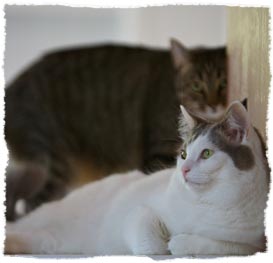 The Animal Nanny is a pet sitting and dog walking service that can give peace of mind to both you and your pet. Ranging from dog walking to overnight pet sitting to cat sitting and everything in between, our pet sitting and dog walking services are designed to make your time away as easy and natural for your pet as possible. So don't kennel your pet; a pet sitting service means customized care for your pet and regular dog walking times for your canine pal. With The Animal Nanny, you get pet sitting and dog walking professionals who treat every animal like their own.

Cat Sitting Experts, Dog Walking Professionals and Much More!
Since 2001, The Animal Nanny has provided top-notch pet sitting and dog walking services for Pleasanton, Livermore, San Ramon and Dublin. Because The Animal Nanny is owned by someone with years of experience in the veterinary field, our company's focus is the safety and well being of your pets.
Marna Stein, RVT,
Owner

Marna comes to The Animal Nanny from a long background working professionally with animals. A life-long and enthusiastic animal lover, she began her career as a registered veterinary technician. In that capacity over many years she has had experience and built expertise in several areas, including emergency management. She has also served as hospital manager for two veterinary clinics. She previously owned and operated a canine swim therapy business for seven years.
Marna shares her life with a rescued Australian Cattle Dog named Kate-L-Dog. Affectionately known as Kate. Kate is known in her neighborhood as the self-appointed dog park supervisor. She takes her work very seriously, watching over the mayhem carefully and stepping in when she feels play is too rambunctious or rough. When not policing the dog parks Kate runs agility with Marna, which they both enjoy very much.
With her background and love of animals it is likely no surprise that Marna holds the safety, comfort, and happiness of The Animal Nanny's clients' pets very dear. Marna takes great joy in working with animals and is very glad to know she can bring dedicated, loving pet owners peace of mind when they cannot be with their best pals. She believes it really is an honor to stand in as their best friends, and knows all the Nannies share her feeling that there is no better job in the world.
.....................................................................
Interested in joining our pet sitting and dog walking staff?
.....................................................................

We are a licensed, bonded and insured pet sitting and dog walking service and a proud member of the following organizations:
National Association of Professional Pet Sitters (NAPPS)
Professional United Pet Sitters
Pet Sitters Associates, LLC
Community involvement:
City of Fremont Adopt-A-Street Program (Fremont Blvd. from Thornton to Central)
Sponsor of Furry Friends Rescue Events and Fundraisers
Sponsor of Tri-Valley Guide Dog Puppy Raisers Pooch Parade
Sponsor of the Niles Main Street Association Dog Show for 6 years!
Sponsor of the Spectrum Community Services Mutt Strut
Sponsor of Ohlone Humane Society Events and Fundraisers
Sponsor of Purrfect Cat Rescue Activities
Sponsor of Newark Days